How gorgeous is this floppy wool felt hat by French Connection? Feminine and practical, Haley snatched one out of the box and has refused to take it off since! I love the way the wavy collar mimics the hem of the top and softens the pleats.
We've had this Patterson J Kincaid hot pink pleated tank for a little white and we can't get over the fact it's still around! The color is absolutely stunning and the cascading tiered pleats lay flat, adding texture without bulk or weight. We love the unique one shoulder tie and the way the slight sheen of the top looks against the shiny coated Patriot Wash J Brands. We added a long pendant necklace to draw the eye down and keep the top from looking too square and chose the Long Cage Vial Necklace by Low Luv x Erin Wasson.
In spring 2008, supermodel Erin Wasson founded LowLuv jewelry and subsequently debuted her collection on the Alexander Wang runway, LowLuv is pure rock-chic, with gold- and silver-plated unexpected cuffs and edgy pendants that steal the show.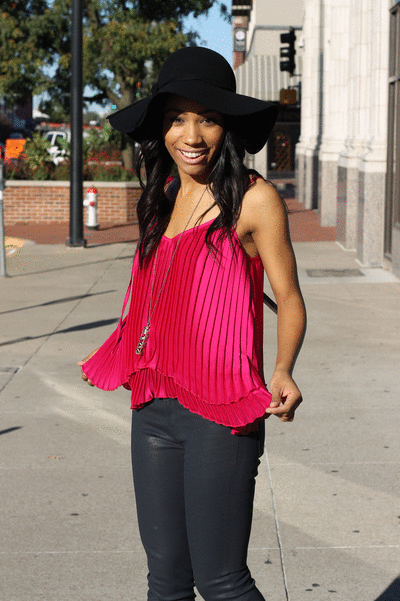 French Connection Fancy Winter Floppy Hat - $118
Low Luv by Erin Wasson Long Cage Vial Necklace - $115
J Brand Coated Skinnies in Patriot - $196